Tired of giving gifts that tie people to devices?
Give the gift of nature
Or contribute to our CAMPERSHIP fund.
Camp Koolaree has Gift Certificates available on a per-camp basis
or in any denomination towards a Camp Fee or a private rental.
Get away from the screen and enjoy the world right in front of you!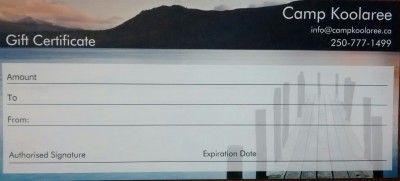 At Camp Koolaree campers are given an opportunity to get away from our technology-driven world and focus on the people and situations right in front of them.
Surrounded by mountains and the lake,
Camp Koolaree is the ultimate rustic getaway.
We provide time throughout the entire summer for all ages.
Our summer camps start at our Intergenerational Camp which is for all ages!
Children are accompanied by parents for this fun-filled week,
and all children 6 and under are FREE!
Children then move up to our Novice CoEd Camp
which is a 3-night stay at the camp with friends ages 7-9.
Our Junior Boys and Junior Girls Camps are for ages 10-13
and run for a 5-night stay.
Teen CoEd camp and Outpost camp are also a 5-night stay,
but for campers ages 14-17.
Registration fees start at $335 per person and go up to $420.
We strive to keep camp fees as low as possible, offering "camperships" for low-income families. The fees above reflect our camp fees subsidized by generous donors who would like to make camping an experience for all.
We estimate our sustainable camp fee, without donor support, to be $545. If you are able to pay this amount then another child will benefit from your support. Thank you.
Please contact the Registrar for more information: campkoolaree.registrar@gmail.com
---
Buy your Gift Certificate in another amount
which can be used towards a Campership
or a Camp Rental Fee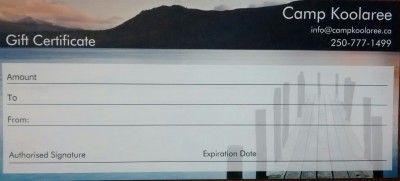 ---