What will I do at Camp Koolaree?
canoeing and pedal boats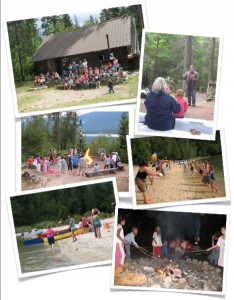 meaningful Bible study and morning chapel
theme time discussions
skits / theatre / games / crafts
sports (volleyball, softball,…) wide games
swimming and polar bear swim (optional)
hiking
rest time/free time
great food and canteen
campfire
Campers enjoy a safe and compassionate environment without worrying about bullying, competition, exclusion or denigration. All are valued and welcome for fun and personal growth in a camp where mutual respect and integrity are fostered and celebrated. While Christian in orientation, the camp provides a God-centered focus through experiences in nature and experiences with others in community. Campers learn that the principles they live by at camp can be used in their regular lives after they leave, to help create a happier and healthier world for all.
How do I get to

Camp Koolaree?
As Camp Koolaree is located on the other side of the lake, a boat ride is needed to get there. We provide that boat ride for campers and visitors. There are scheduled times at the start and end of each camp.
Arrival time (first day): 8 to 9 a.m. Pick-up time (last day): 11 a.m. to 12 p.m. (unless otherwise pre-arranged)
Place: McDonald's Landing, which is a public wharf located just after Six Mile at Highway 3A and Lower Six Mile Road (10.1km from BOB-Nelson bridge). Camp boats will transport people across the lake to Camp. Life jackets are provided.
Night crossings are not permitted.
Please note:
Visitors will be charged for meals and boat transportation to and from the camp. Enquire about rates beforehand.
What should I bring to Camp?
jeans/pants (2 pairs)
shorts, shirts, tops, socks, underwear
warm jacket/sweater
running shoes, sandals/thongs
sturdy shoes for hiking
hat/cap, swimsuit, rain gear
sleeping bag, foamie, pillow
campfire blanket, 2 towels

soap, shampoo, toothbrush & toothpaste,
insect repellent, sunscreen
flashlight, spare batteries
notepad, pen/pencil
quiet reading book (optional)
Bible (optional)
inexpensive camera (optional)
musical instrument (optional)
ball glove (optional)
Please DON'T Bring:
aerosol cans of any kind, money, food, pets, CD, MP3 or DVD players, electronic games, radios, fishing tackle, knives, or cell phones.
(Note: Items not listed above may be locked up for safekeeping during camp. Some items may be issued during the camp at the discretion of the Camp Director.)
ADDITIONAL NOTES:
Remember Your Medication: 
Please label properly all medications with the child's name and bring in written form any medical changes since registration. The First Aid Attendant will collect all medications (prescription and over-the-counter) at registration check-in.
Children with specific dietary concerns may bring food with permission from the director. Please ensure this is noted on your registration.
Labelling:
 To ensure that everything comes back home, we suggest you use waterproof pens or sew-on labels to mark all items with your camper's name. Camp Koolaree staff cannot be responsible for the loss of, or stolen personal property.