Interested in having a retreat, wedding or reunion
at Camp Koolaree?
Camp Koolaree is the perfect setting if you're looking to get away from it all !
Our rustic facility can accommodate up to 60 people per night.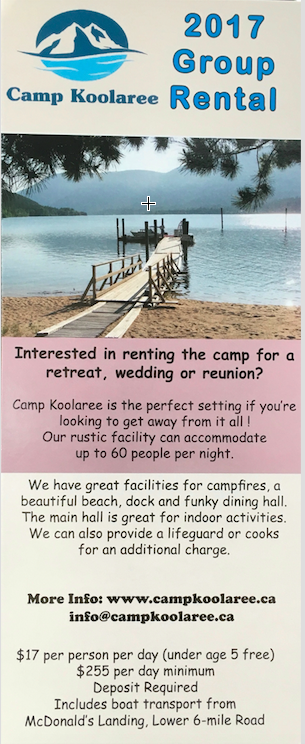 We have great facilities for campfires, a beautiful beach, dock and funky dining hall.
The main hall is great for indoor activities.
We can also provide a lifeguard or cooks for an additional charge.
Arrival and departure boat crossings are included in the rates.
Additional crossings are $10 per boat load.
– $17 per person to a maximum of 60 people.
Children under 5 free

– Deposit of $255 is due on booking
– Minimum charge is $255 per day
As our stoves, lights, refrigerators and hot water tanks are all run on propane,
we charge $150 per propane tank used.
— Check in 3pm, Check out 11am —
All bookings include transportation across the lake from
McDonald's Landing, Lower Six Mile Road.
Our Camp is available May 15 through September 30 for your use
except for our Summer Camping Program
Camp Rental Availability



Intergenerational Family Camp
For more information or to request a booking
Contact Us:


To make a Rental Fee Payment
you can use this PayPal option:
---