drone videos by David Ermacora
to support campers who otherwise could not afford to go to camp
by subsidizing their camp fee.
Your tax deductible donation can be made online through the PayPal link or
by cheque payable to "Camp Koolaree"
and delivered to Camp Koolaree,
1300 Pine Ave, Trail BC V1R 4E6,
or your local United Church.
Tax receipts will be provided for all donations over $25.00.
Buy a "Camping Certificate"
(gift a week of camping to a friend or relative)
Prepay the camping registration fee
for someone you would like to have
a wonderful summer camp experience.
Contact us to arrange the purchase of a certificate.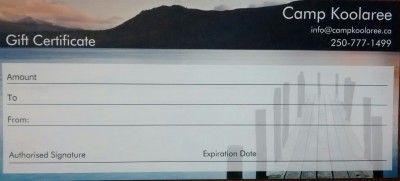 This album of memories was a project of Katimavik volunteers at the request of the Board of Camp Koolaree to celebrate the 80th anniversary of Camp Koolaree, 2011
A short word by the editor…
My name is Charly Baxter. I am 19 years old and come from Ontario, Canada through the National Youth Volunteer Program, Katimavik. Each member of our group works for a non-profit organization in Nelson, British Columbia. While working for Camp Koolaree I have been given the great opportunity to create this book, and get to know how wonderful and full of memories this camp truly is. On a couple occasions I visited the camp and could feel how special it is.
A big thank you to Ken Dimock for lending us his memory books. Without them this book would be a lot smaller. From what I know, Ken Dimock is famous to Camp Koolaree. Fortunately I got the chance to meet him at the 2011 Work Party.
****
Assisting Charly was a Katimavik youth from Kamloops, Owen Goss, who spent days
at Nelson United Church scanning all the photos and articles collected from Ken Dimock's camp album.
Please enjoy your memories