The project was made possible by a 2018 grant from the LeRoi Foundation, along with private donors, and many hours of donated labour, including an electrician, a certified tree faller, and construction professionals!
From Ray Lundquist:
Saturday, October 12 turned out to be a nice day to complete the work on the solar panel installation and to have CK Bill's son, Darryl, explore the camp and take notes for a geotechnical report.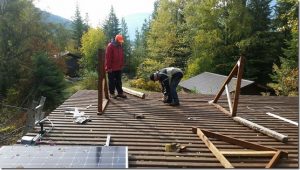 Bill watches as Herman drills a hole in the Q-Deck roofing precisely where the centre support will go.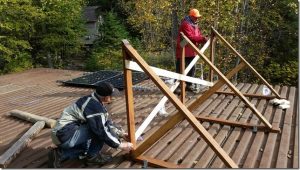 Herman and Bill secure a cross brace to the panel support framework. It is now rock solid.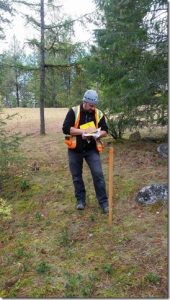 Meanwhile, Darryl takes notes on the location of buildings and features around the camp before climbing the mountain above.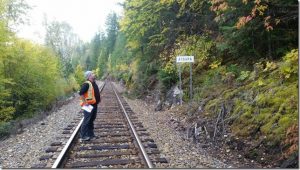 Darryl scans the steep hillside for boulders and any areas prone to slides.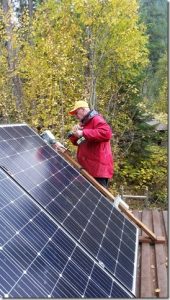 Bill drives the last screw home to secure the panel to the wooden frame.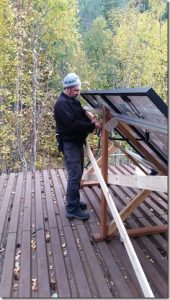 Finished climbing the mountainside, Darryl tries his hand at encasing loose conductors in a split wire loom.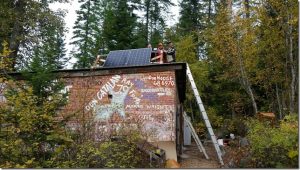 Darryl, Bill, and Herman pose behind the completed solar panel installation.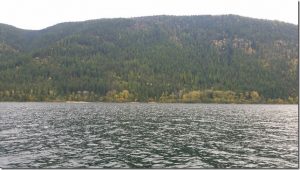 As we left, I ran the boat upstream along the shore and then swung around so Darryl could take some photos of the landform behind Camp Koolaree.
It was another long day. I left home at 07:40 a.m. and got back at 6:05 p.m., hungry, and totally bagged!
R.L.